Custom PVC windows.
INSULATING - SAFE - BY DESIGN
Opting for a PVC window and door frame is an active way to protect the environment while still maintaining functionality, comfort, and aesthetics. The aim of a society that is modern and responsible is to create truly sustainable products and materials, in accordance with the aspirations of respect for the environment, economic development, and social progress.
AN ECO-FRIENDLY AND COST-EFFECTIVE LIFE CYCLE EVEN DURING USE.
It is important to choose fixtures that ensure maximum energy efficiency. The comfort inside the buildings is given by the thermal and acoustic insulation. The technical details, moreover, allow the passing of the tests of robustness, water tightness and impact resistance. The windows of the Visconte HP line are also suitable for passive houses.
I Nobili uses last generation welding machines able to weld eliminating the seam (profiling). The result is a harmonious product, with a strong impact for elegance, modernity and continuity of form with perfect 45 degree joints. An innovation that allows the choice of the type of external profiling, from nothing (angle combined with perfection without welding visibility) to grooved. Typical, the latter, white profiles.
Another important advantage that derives from the use of this technology is the higher load resistance, much higher than windows and window doors crafted with the most common welding machines.
The hardware store disappears from view.
The window acquires the center of attention with elegant semplicity.
Available for CAVALIERE and VISCONTE HP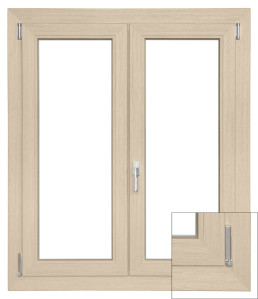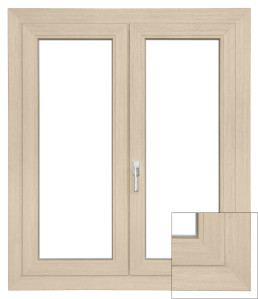 PVC – polyvinyl chloride – is a synthetic product. The main raw materials of which it is composed are rock salt (common salt) and oil, whose content, compared to other plastics products, is lower. PVC, used for the construction of windows, does not contain plasticizing additives and does not release any heavy metal. Moreover, modern production processes and working standards have made it possible to achieve a significant reduction in emissions of substances harmful to the environment, thanks to the rationalisation of fossil fuel consumption.
PVC is particularly suitable to obtain the best thermal transmittance values, being a low conductivity material.
PVC is a deaf material, meaning that it does not resonate and produces high-value sound insulation.
PVC windows and windows do not need extraordinary maintenance. This avoids the use of paints and solvents.
PVC profiles have a life time of about 20 years; they are non-deformable and shockproof. They are resistant to adverse weather conditions, mold, salt, acids and smog.
It is a characteristic advantage for PVC window frames:
energy savings;
affordable purchase price;
almost no maintenance expenses;
durability of materials.
At the end of their life, PVC window frames are recyclable. Recyclability is one of the most important evaluation criteria for sustainability.
The frame includes different types of seals, each with its own function and characteristic, combined with the color of the frame. The seals, made with a special elastomer (EPDM), help to ensure perfect thermo-acoustic insulation and high resistance to atmospheric agents.
Windows and french doors represent a natural point of contact of every home with air and outside light but are also the main access areas for intruders. I Nobili's PVC window frames offer effective anti-burglary systems, studied taking into account the maximum aesthetic impact and maximum functionality. With the assurance of always being safeguarded.
DISCOVER THE SECURITY SYSTEMS
PARTICOLARI COSTRUTTIVI
Gli infissi della linee in PVC de I NOBILI hanno numerosi dettagli, sia esterni sia strutturali.
Ogni particolare è studiato, elaborato e verificato da tecnici specializzati i quali cercano soluzioni innovative per migliorare sia l'estetica sia le qualità prestazionali di ogni singolo prodotto.
Scopri i nostri

infissi in PVC.